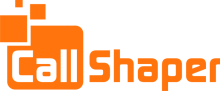 Predictive Dialer Software to Maximize Your Call Center Effectiveness
Outbound Dialer services are essential to maximize productivity, effectiveness, and success of your call center agents. Your teams can increase their number of live connections, while ensuring quality and adherence to industry regulations remain top-notch.
CallShaper is a leader in the call center industry, driving greater sales efficiency through harnessing the power of the cloud. Top-rated for its ease of use, accurate real-time reporting, and flexibility, CallShaper seeks to automate 100% of the telemarketing process, both outbound and inbound, and enable the sales agent to focus on making the sale. In a business where margins are tight, closing sales is paramount.
CallShaper's Predictive Dialer service:
Increases calls made per day (no 4:1 dialing ratios!), enhanced with our statistical algorithms;
Automates the call handling process
Reduces unanswered calls, long waiting times, and dead numbers to maximize overall effectiveness; and
Keeps your agents busy while ensuring compliance with all applicable regulations.
Experience the dynamism of a cloud-based automated call center. Submit your information today to schedule your free demo!