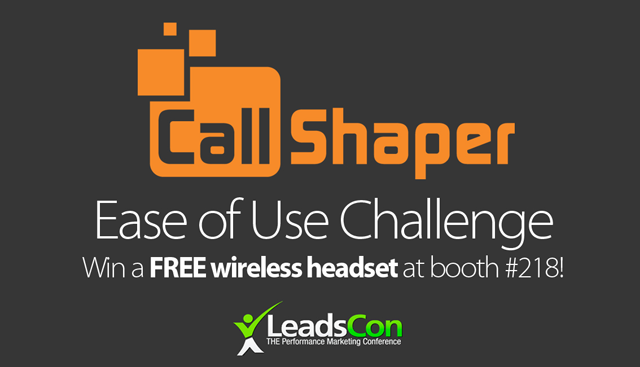 We're just around the corner from LeadsCon 2018. This event will be held on March 5-7 in Las Vegas. Come by and see us at Booth #218 and participate in our very own Ease of Use Challenge!
If you are attending the conference, we personally invite you to take part in our challenge where attendees will have the opportunity to test out our cloud-based platform. With no training at all, we'd like for you to see how easy CallShaper is to use. Each person that completes the list of questions will qualify to win a FREE Wireless Headset!
LeadsCon is the perfect event for those looking for new ways to nurture and convert qualified leads that are essential to their business' success. CallShaper is the originator of a cutting-edge cloud-based call center platform for efficiency- and compliance-minded directors of inbound and outbound telemarketing call centers. Whether your call center is in-house or external, if you want to automate 100% of your telemarketing process and keep your agents focused on making sales, CallShaper has the answer. Test it out by participating in our challenge.
As an ongoing exhibitor, we look forward to building new relationships and meeting one-on-one with this year's attendees. To secure your spot in our Ease of Use Challenge, click here.